We pay our respects to Elders and ancestors who watch over us and guide the Aboriginal and Torres Strait Islander community. We also pay respect to the past, present and future Traditional Custodians and Elders of all nations of our world and the continuation of their cultural, spiritual and educational practices, as we acknowledge their enduring connections to their respective Country, knowledge and stories.
WHO ARE WE?
Axis Travel Centre:
"When professional advice and quality service matter most"
Since 1978 , Axis Travel Centre has invested heavily in strong product knowledge, accreditation's, employing and continually training new human staff to deliver to our clients the best solutions, options with quantifiable and guaranteed travel arrangements . After over 44 consecutive successful years, we think we have seen most of what life has to offer. We have assisted-and continue to assist – clients through both joyous and disastrous situations, through worldwide Covid-19 critical issues, strikes, restricted war zones, personal travel escapes, evacuations, unforeseen emergencies , the collapse of airlines, agencies, cruises and supplier s financial collapses whilst advising media and consumers about complex travel industry conditions, disturbing website scams and rescuing stranded travelers!  
Verbatim TESTIMONIALS, >Click here



ABC RADIO INTERVIEW Unedited. Travel predictions. COVID Jabs. Travel Insurance. SAFI INsurances. Max Najar-Peter Goers
IF you are a client of Axis Travel Centre please complete this very short COVID19 Questionnaire for us ! CLICK HERE.
Axis Travel Centre advisors offer 24 x 7 servicing without being placed "on-hold" or via a foreign country call centre or without a 3rd party who treats you like a number.
Respectfully, we offer the hioghest level of personal attention to detail, travel investment safety and security backed by our company and advisors' professional credentials and experience. We do accept that we may not be the travel agency for travellers who want "only" the lowest price and may not be concerned with our proven benefits or ongoing personalized attention, professional advice , free COVID-SAFE and SAFI protections and securities.We will not compromise our quality of advice or professional services in order to secure a travel sale !
Axis Travel Centre: "When professional advice and quality service matter most" 
COVID SAFE POLICY©  Axis Travel Centre has a special policy in place with unique computer booking codes to protect your travel bookings .We also include free SAFI (Scheduled Airline Failure Insurance)* in case of the financial default of an Airline , that we book and issue tickets against. No Airline offers this free protection coverage nor any other travel agency or business in South Australia. SAFI (Scheduled Airline Failure Insurance)* is free protection for our valued clients as many Airlines, Cruise companies and Tour operators have gone broke in the past few years. CLICK SAFI.TRAVEL CHANGES: As COVID variants continue to affect the travel industry, our COVID SAFE POLICY© protects your travel investment. Any Australian State or Federal Government, International transit point or overseas arrival Government, Health or associated authority may impose new COVID related conditions that may alter your travel booking to proceed as originally booked ,either before, during or after travel has begun. Many such changes can occur without your knowledge or whilst you are travelling, unconnected to such new regulations.We may need to change your original travel dates, that will affect all other connected travel components or we may need to perform route change(s), cancel your booking, place monies in credit or in some cases apply for a refund. As part of our professional services, we will immediately keep you informed and then complete the legally required paperwork to assist you in adjusting, rebooking, cancelling or refunding all travel bookings made by us for you. Airline and travel supplier conditions/fees do change regularly but usually to perform any such variations tend to either be free or incur a nominal fee of $55 to $220 per person. Some Travel Insurers will cover these costs if they apply.MARKETING ISSUES WE HAVE NOTED: A huge amount of website links, photos, videos, online (real/fake!) reviews and advertising deals are old and/or incorrect and have not been updated. With the effects of COVID related issues, some Airlines, Airport lounges, travel supplier products have been service impacted with a loss of experienced staff, levels of staff shortages, the non-re-establishing of past services, an inability to update COVID facilities or maintain quality accommodation housekeeping or security facilities. Axis Travel Centre advisors use our long-term, trusted, industry contacts to review and/or monitor the travel products offered to you, to ensure that they meet what you are paying for (and expect to receive), including adopting Covid-appropriate guidelines required by respective consumer affair, government, health and safety bodies. We will not offer travel options if they compromise our professional services and advice  which exposes us to be legally liable and accountable We have a vested interest to keep you updated and informed, as we have been doing so since 1978, not swayed by misleading marketing, the perceived lowest price or heavy advertising campaigns who tend to not explain critical booking conditions, fees or the "fine-print".Although our  COVID SAFE POLICY©  does not apply if you make voluntary changes etc.,our  free SAFI (Scheduled Airline Failure Insurance) remains intact to protect you. We suggest we quote and issue you with comprehensive Travel Insurance coverage to protect you for other eventualities.           * Correct as at March 2022.  .We have been honoured via our travel industry and business community with over 39 Awards and Accolades since 1978 , which provides some validation in what we have done and continue to do. The intangible elements of time , civility and the simple human personal touch are elements that no computer, no anonymous toll free phone number or website or inexperienced person can ever emulate or give you a credit slip back to you.
UNTIL FURTHER NOTICE: Appointments only for in-office advice/consultations/bookings please. Our EMAIL and PHONES remain 24 x 7.  This will change after COVID drama subsides worldwide!
Since 2016 ,  we remain the only Travel Agency in South Australia offering ,for free, within our "SECURITY UMBRELLA " © Protection Package  the worldwide SAFI Airline Insurance, [Scheduled Airline Failure Insurance], in case of Airline financial collapse. NO AIRLINE OR AGENCY OR SUPPLIER  in South Australia has this protection. Conditions apply. All airtickets must be booked, paid and issued by Axis Travel Centre to have this free protection in place, allowing refunds , less a small service fee.
The list of SAFI protected Airlines can change. A list is here but always ask us if in doubt.
We make a simple promise of delivering personal attention to all travel bookings, be they personal, group or corporate to people who value both their and our time and our mature intellectual property whilst respecting our expert advice and professional services offerred.
Our exclusive SECURITY UMBRELLA includes the SAFI Airline Insurance, [Scheduled Airline Failure Insurance] inclusion, FREE to our clients.
To compare us even more against other Agents or Airlines etc etc , CHECKLIST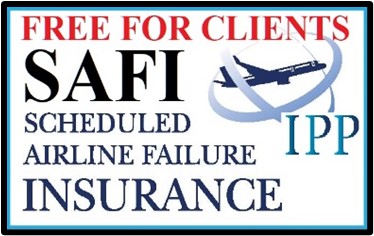 When to use or not use a Travel Agent? A Media quote, worth considering:
 "If a travel agent cannot add "true value" to the travel equation for a client, then the client should reconsider using that travel agency or travel advisor and maybe that agency should not exist. This added "true value" should never be solely price based. This value can include such qualities as being able to deal with a trusted person, relying on that travel advisor to apply their professional expertise and experience to truthfully advise and manage travel arrangements or adding the tangible qualities of monetary securities with the highest levels of credentials and accreditations to deliver the best travel services, before, during and after travel is undertaken. If you also add the realistic savings made in saving time, reducing stress levels and the advisors ability to "deconfuse the confusion"© by offering logical travel options and an ability to explain complex conditions then the combination of all of these benefits are a validation that a professional travel advisor can add "true value" to the overall travel equation and is therefore a worthy investment." © MN1978
---
PRIORITY PORTFOLIO TRAVEL™©-by INVITATION ONLY.


Being a past member of the American Express Travel Network for over 30 years and winner of every available American Express International Travel Agency and Management award available worldwide, we use this AMEX foundation in focusing on Titanium, Centurion, Platinum, Gold and VIP clients who expect and do receive the highest level of dedicated meticulous expert advice and professionalism.
Managed by veteran Travel director and manager, Max Najar has established under Axis Travel Centre a separate client database called "PRIORITY PORTFOLIO TRAVEL" ™© via an Invitation Only protocol.
Supported by highly experienced Axis Travel Centre support staff, this unique entity operates solely on behalf of discerning clients who expect and will receive the highest level of travel expertise, experience and quality services that have been developed from a professional toolkit of travel services and worldwide contacts , on a very personalized delivery level.
There are very few travel advisors in Australia that can use   the sources and knowldege from over 44 years of consistent travel operational  experience and contacts to advise, guide and finally deliver options, ideas and high level travel components as  "PRIORITY PORTFOLIO TRAVEL" ™© is designed to do.
For all clients , "PRIORITY PORTFOLIO TRAVEL" ™© excels in methodical planning of Itineraries, mature advice from Travel Industry accredited professionals who use their expansive toolkit of skills, experience and training to efficiently and effectively complete a simple travel booking or spend extra time to construct complex but chronologically logical travel itineraries, whilst giving clients relevant travel options.
Axis Travel Centre maintains a client database that achieves "over 83% of clients from repeat clients or new client referrals" ,as we spend far less money and time on marketing , but re Invest this time and money into ongoing staff training, Insurance policy protections to protect clients monies and ultimately delivering "better than expected" travel components and "nice surprises" to our clients.  Axis Travel Centre: "When professional advice and quality service matter most"