Axis Travel Centre: "When professional advice and quality service matter most"
Since 1978 , Axis Travel Centre has invested heavily in strong product knowledge, accreditation's, employing and continually training new human staff to deliver to our clients the best solutions, options with quantifiable and guaranteed  travel arrangements .
After 42 consecutive successful years, we think we have seen most of what life has to offer , assisting clients through both joyous and disastrous situations, through strikes, war escapes, evacuations, emergencies , airline, agency, cruise line and supplier financial collapses and sifting through complex travel industry conditions, disturbing website scams and  rescuing stranded  travelers.
Axis Travel Centre clients will receive …….
FREE "Security Umbrella" (monetary protection in case of Airline, Supplier or Agency collapse*.
One thing is for certain. The intangible elements of time , civility and the simple human personal touch are elements that no computer, no anonymous toll free phone number or  website or inexperienced person can ever emulate or give you a credit slip back to you.
We listen to humans, assist humans and deliver to humans a level of travel advice, options, securities and ongoing human empathy which is verified via our current existence and achieving over 39 Travel and Business awards since 1978.
We are proud of what we have done and what we do and what is next, which is to celebrate our 40th Birthday in 2018 , extending to our valued clients our FREE and exclusive "SECURITY UMBRELLA "  ©  * protection package*  to protect our clients against the financial default of an Airline, Tour company, Cruise line or agency. This is a major investment made by our management team to ensure that we not only deliver travel expertise and services to our clients but to also protect their monies to the highest levels available.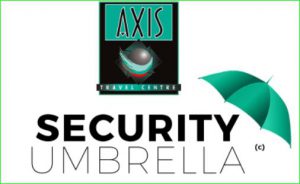 Up to Feb 2020, we  were the ol;y Travel Agency in South Australia offering ,for free, within our   "SECURITY UMBRELLA "  © Protection Package the worldwide  SAFI Airline Insurance, [Scheduled Airline Failure Insurance], in case of Airline financial collapse. NO AIRLINE OR AGENCY has this protection. Conditions apply. All airtickets must be verified,booked, paid  and issued by Axis Travel Centre to have this free protection in place.
Since  July 2018, we were the only Travel Agency in Australia with the   "SECURITY UMBRELLA "  © * protection package* which no Airline, Supplier can ever offer . So think about taking a risk or receiving our FREE  "SECURITY UMBRELLA "  © * protection package*when you invest in booking travel !
We specialize in delivering quality travel  for people who value time, Intellectual Property respecting mature expert advice and professional services .
=================================================
PRIORITY PORTFOLIO TRAVEL™©-by INVITATION ONLY.


Being a past member of  the American Express Travel Network for over 30 years and winner of every available American Express International  Travel Agency and Management award available worldwide, we use this AMEX  foundation in also focusing on Titanium, Centurion, Platinum, Gold and VIP clients who expect and do receive the highest level of dedicated meticulous expert advice and professionalism.
This is a  rare quality these days, so within Axis Travel Centre a separate client database called "PRIORITY PORTFOLIO TRAVEL" ™©  is managed by travel Industry veteran Max Najar via an Invitation Only procedure.
For all clients , we excel in methodical planning of Itineraries, mature advice from Travel Industry accredited professionals who use their expansive toolkit of skills, experience and training  to efficiently and effectively complete a simple travel booking or spend extra  time to construct complex  but chronologically logical travel itineraries, whilst giving clients relevant travel options.
With a client  database that  achieves  "over 83% of clients from repeat clients or new client referrals" ,we spend far less money and time on marketing , but re Invest this time and money into ongoing staff training, Insurance policy protections to protect clients monies and ultimately  delivering  "better than expected" travel components and "nice surprises" to our clients.
Axis Travel Centre: "When professional advice and quality service matter most"