Fees+Booking Conditions   AXIS TRAVEL CENTRE- BOOKING CONDITIONS:
Our exclusive and unique COVID-SAFE POLICY explained.CLICK HERE>
COVID SAFE POLICY©  Axis Travel Centre has a special policy in place with unique computer booking codes to protect your travel bookings .We also include free SAFI (Scheduled Airline Failure Insurance)* in case of the financial default of an Airline , that we book and issue tickets against. No Airline offers this free protection coverage nor any other travel agency or business in South Australia. SAFI (Scheduled Airline Failure Insurance)* is free protection for our valued clients as many Airlines, Cruise companies and Tour operators have gone broke in the past few years. CLICK SAFI.
TRAVEL CHANGES: As COVID variants continue to affect the travel industry, our COVID SAFE POLICY© protects your travel investment. Any Australian State or Federal Government, International transit point or overseas arrival Government, Health or associated authority may impose new COVID related conditions that may alter your travel booking to proceed as originally booked ,either before, during or after travel has begun. Many such changes can occur without your knowledge or whilst you are travelling, unconnected to such new regulations.
We may need to change your original travel dates, that will affect all other connected travel components or we may need to perform route change(s), cancel your booking, place monies in credit or in some cases apply for a refund. As part of our professional services, we will immediately keep you informed and then complete the legally required paperwork to assist you in adjusting, rebooking, cancelling or refunding all travel bookings made by us for you. Airline and travel supplier conditions/fees do change regularly but usually to perform any such variations tend to either be free or incur a nominal fee of $55 to $220 per person. Some Travel Insurers will cover these costs if they apply.
MARKETING ISSUES WE HAVE NOTED: A huge amount of website links, photos, videos, online (real/fake!) reviews and advertising deals are old and/or incorrect and have not been updated. With the effects of COVID related issues, some Airlines, Airport lounges, travel supplier products have been service impacted with a loss of experienced staff, levels of staff shortages, the non-re-establishing of past services, an inability to update COVID facilities or maintain quality accommodation housekeeping or security facilities. Axis Travel Centre advisors use our long-term, trusted, industry contacts to review and/or monitor the travel products offered to you, to ensure that they meet what you are paying for (and expect to receive), including adopting Covid-appropriate guidelines required by respective consumer affair, government, health and safety bodies. We will not offer travel options if they compromise our professional services and advice  which exposes us to be legally liable and accountable We have a vested interest to keep you updated and informed, as we have been doing so since 1978, not swayed by misleading marketing, the perceived lowest price or heavy advertising campaigns who tend to not explain critical booking conditions, fees or the "fine-print".
Although our  COVID SAFE POLICY©  does not apply if you make voluntary changes etc.,our  free SAFI (Scheduled Airline Failure Insurance) remains intact to protect you. We suggest we quote and issue you with comprehensive Travel Insurance coverage to protect you for other eventualities.           * Correct as at March 2022.  .
Important Travel conditions: CLICK below….
Changes to these Terms and Conditions; AXIS TRAVEL CENTRE  has the authority and the right to change or modify all or any part of these terms and conditions to at any time it sees fit. MOST DEPOSITS OR PLANNING/BOOKING FEES PAID ARE DEDUCTED FROM YOUR FINAL BALANCE DUE, ALTHOUGH NON-REFUNDABLE. Per Person. If this is not the case we will advise you BEFORE you make any payments .
 SCHEDULE OF FEES  – AXIS TRAVEL CENTRE South Australia ©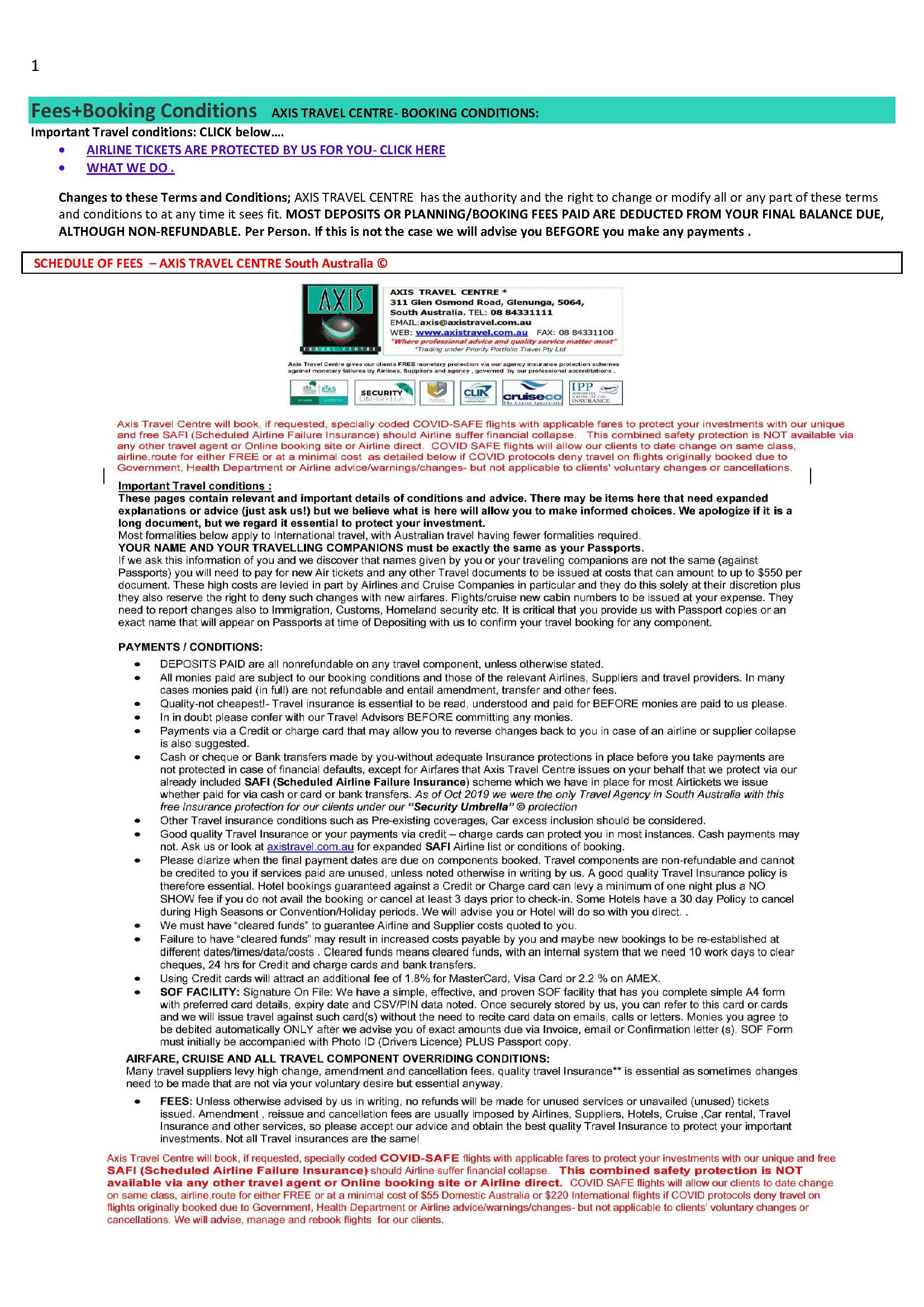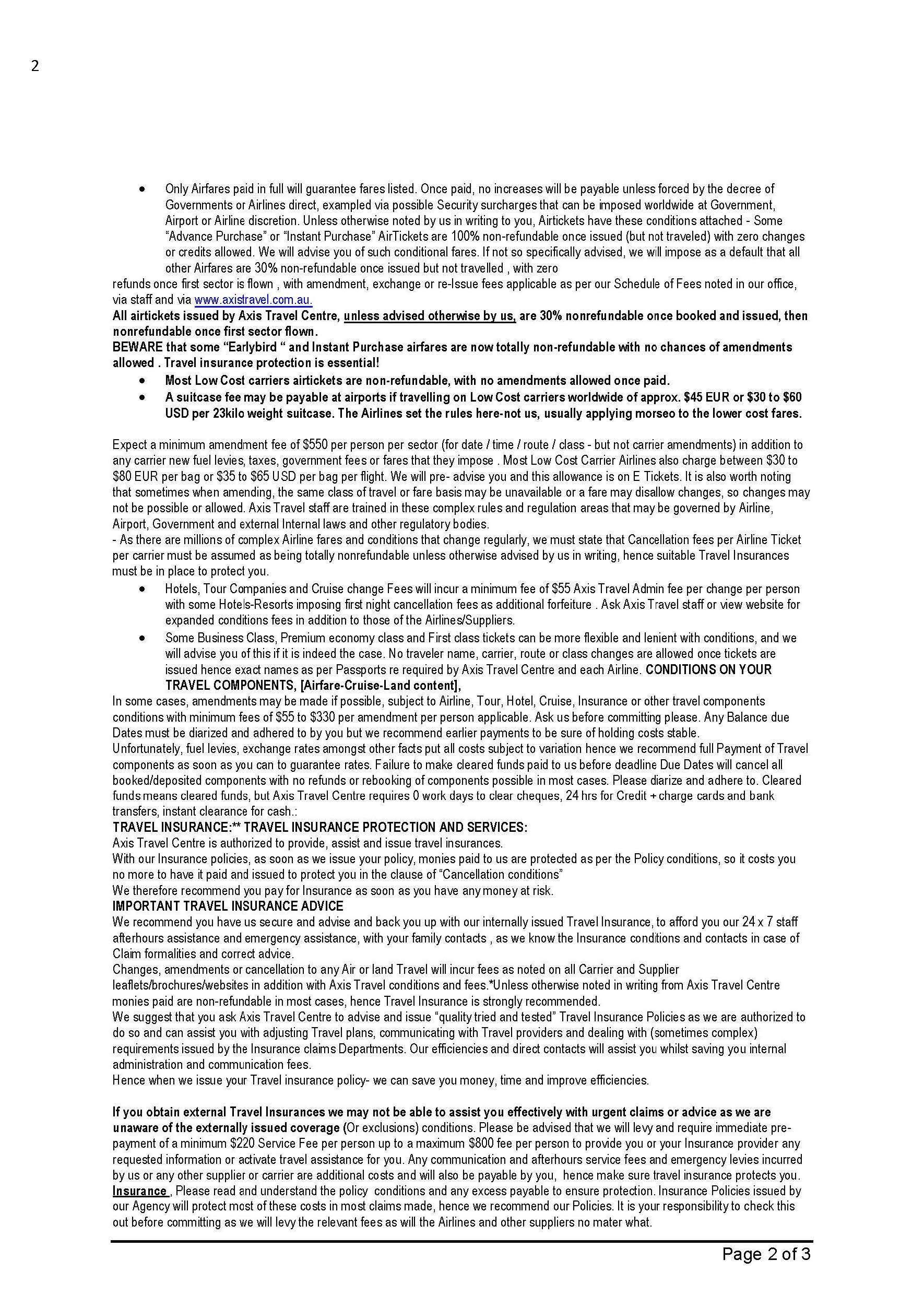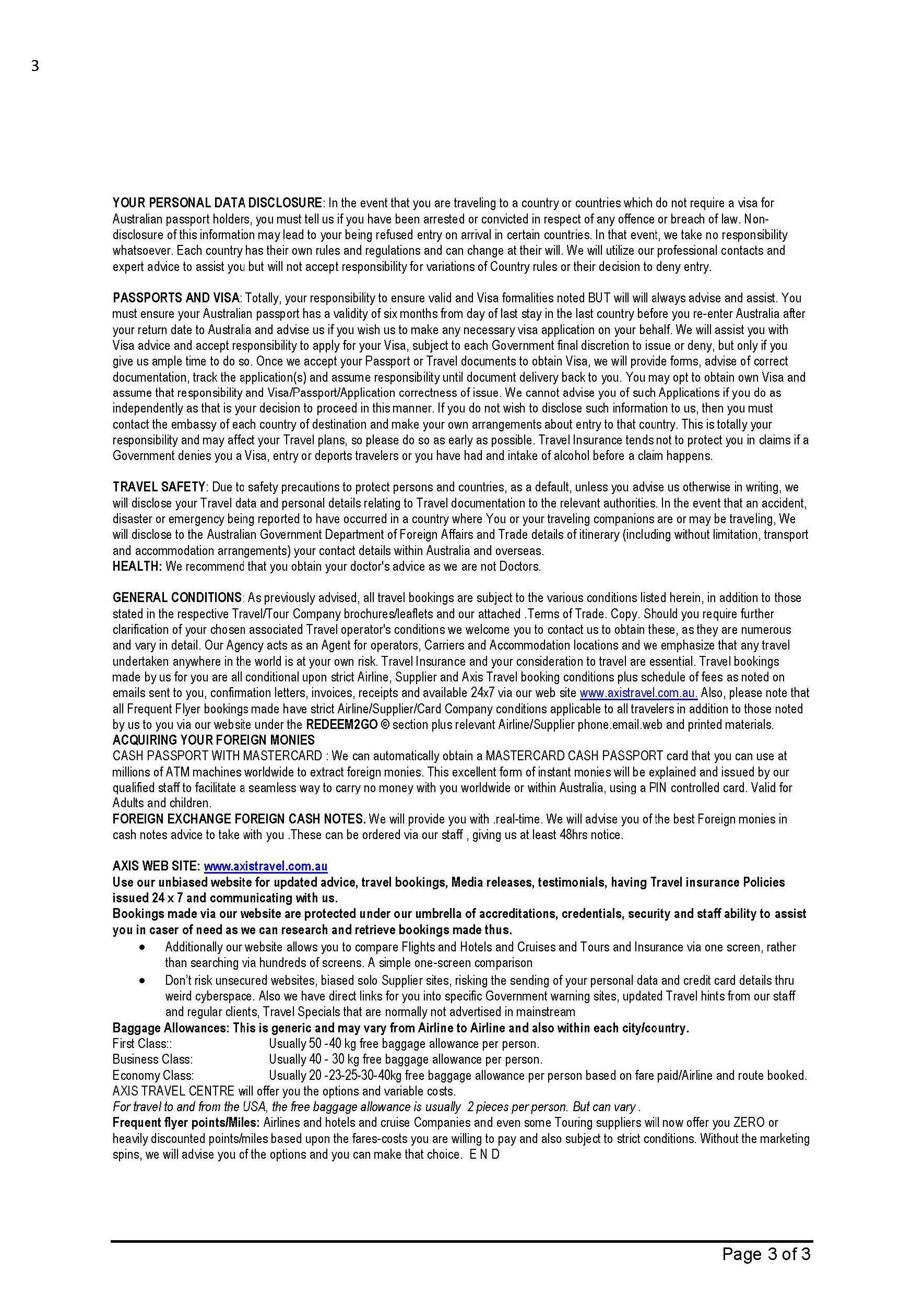 ï?±     BOOKING DOMESTIC RAIL / COACH / FERRY Tickets.        
The Ticket cost for relevant Domestic or International Travel plus $ 55 per ticket.
ï?±      OBTAINING VISAS / GOVERNMENT        PAPERS:
GOVT FEE plus courier / postage costs, our verification of the correct documentation and return of your documents
Once we accept to assist you we are liable and responsible for application. Extra Govt fees may apply ,e,g.: "Urgent", "Rushed", "Multiple" and security of your documents whilst in our hands.$ 70 P/P.
ï?±      SEARCH /ARCHIVE FEES
No charges for past Itineraries, Invoices, receipts, Tickets issued within past 12 months.
Copying/delivery costs may apply. F R E E
After 12 months, computer & paper files are stored/archived off our premises. External searches @ $5 per page plus .We wil advise you of cists before Searching but a minimum charge will be  $ 50 per request
  FREQUENT FLYER BOOKINGS  "Redeem2Go©"   We manage Frequent Flyer miles/ points to secure airtickets, hotels, cars and cruises.
See our Website under ++"Redeem2go" for details. This complex area (esp. International Travel) that requires our expert advice & assistance, especially regarding Bonuses, special deals & rulings.
++Domestic Air: Issuing Air tickets with Land content. $ 55 P/P
++Domestic Air: Issuing Air tickets without Land content.$ 75 P/P
++International Air: Issuing Air tickets with Land content  $ 220 P/P
++International Air: Issuing Air tickets without Land content $ 330 P/P
CHECKING YOUR STATUS: Booking Hotels, Cars, Tours, Vouchers, Tickets,
Transfers, obtaining status, advising best options or transferring miles/ pts  $33 P/P
ï?±      [STAFF] PROFESSIONAL CONSULTATION FEE [ P.C.F.]™  After agreement with clients, our professionally Certified Travel Consultant [CTC] STAFF may levy PCF(fees) in addition to
Purchased Travel item costs of $ 55 P/P or $110 P/couple or $220 P/Family or $550 P/Group booking for complex Itinerary planning, extra Travel services or advice. You will always be advised of this beforehand, based on Travel itinerary complexity.
NOTE: PCF PROFESSIONAL CONSULTATION FEE  These are levied at only 50% for Australian –Domestic Travel. PCF are always pre-advised to clients and levied towards specific and/or requested Travel itineraries, research, planning, arrangements and/or intense use of Agency facilities, contacts and product knowledge beyond the norm to ensuring to match specific client needs, wants and desires. We will invest extra time, utilizing our contacts and IP to deliver the best travel options, solutions and advice to each traveler. AXIS staffs maintain rigid ongoing Professional Development courses whilst in our employ that exceed Industry standards. Our staff Intellectual Property include Travel Product knowledge, Educational visitations and inspections, Government laws, Insurance Council regulations, Computer Reservations language skills, Knowledge of Airline and Supplier rules and conditions + Health, Visa, Passport, Immigration, Customs and International currency updates. A PCF is non-refundable. Insurance can protect most fees.
ï?±      [PRIVATE PORTFOLIO ™]   PROFESSIONAL CONSULTATION FEE [ P.C.F.]™ After agreement with our clients & acceptance into his exclusive "Private Portfolio" ™ stable of clients, our Chairman and Director ,Max Najar, may levy maximum PCF (fees) in addition to purchased Travel item costs of $ 220 P/P or $440 per couple or $660 per Family or a negotiated Group Booking rate for personalized specialized attention, utilizing over 32 years experience, personal Intellectual Property advice & expertise, 24 x 7 After Hours access, Emergency contacts, complex Itinerary planning, extra Travel services and/or planning advice.
Clients within PRIVATE PORTFOLIO ™   are exclusively attended to only via personal invitation by Max Najar. Client numbers are restricted, with all forms of Domestic, International, Group, Incentive + unique "personalized" Travel attended to.
ï?±      CONCIERGE SERVICES               
Theatre tickets/Restaurants// Concerts/ Opera/Events/Sporting games/Functions etc $55 /Ticket-Reserve
ï?±      COURIER or "EXPRESS"/"PRIORITY" POSTAGE
Domestic Delivery within 48hrs (normal workweek). Extra costs apply if different. $ 45 per delivery.
International Delivery within 10 days, based on 250 gm item. Extra costs apply if different. $ 110 per delivery.
ï?±      EMERGENCY TRAVEL SERVICES / AFTER HOURS : Outside of our South Australian Office Hours.
Please note that we DO NOT LEVY any Emergency/After Hours Fees if an Agency error has been made by our staff. We believe in honest and fair business ethics at all times.
Only traveler voluntary or Axis Travel unrelated reasons will be charged.
For any Travel mode requiring our urgent attention + other costs via Suppliers or those noted hereon.
Ø       $110 P/P per hour- engaging "Emergency and/or After Hours" services of staff excluding Max Najar.
Ø       $220 P/P per hour- engaging "Emergency and/or After Hours" services of Max Najar.
Ø       Available 24 x 7 direct to your nominated staff member.
ï?±      FAX COSTS/ PHONE COSTS – outgoing only.       Advised before levied. Only for excessive use beyond normal practices. Fax $2 per page/ Calls $3 per minute for Int.
ï?±      INTERNET / WEB pages   : Internet downloaded pages.
Downloaded onto disc @ $5 per Disc or E-mail plus add per page. B&W $2/ Color $5
ï?±     LATE BOOKING FEE As advised by us.                
International Travel.   Maximum costs applicable.$ 220 P/P.
Domestic Travel.       Maximum costs applicable.$110 P/P
Usually administered for Travel booked / ticketed / delivered within 72 hours before Travel. Add any urgent communication costs.
ï?±      MONEY CLEARANCES/ "BOUNCED" CHEQUES-MONIES
To clear funds. Add any imposed financial institution / Bank fees imposed by them on us +$ 60 per clearance.
Please also note that uncleared monies or "bounced" cheques may result in total cancellation of all Travel components and any Government Visa or admission paperwork being cancelled as well.
ï?±      PHOTOCOPYING We provide Free original copies of Itineraries & attachments.  Excess costs thereafter  @ $ 2 per page
.TERMS OF TRADE; All monies paid or commitments made are accepted subject to these conditions in addition to those stated by our staff, on Invoices, receipts, Confirmation letters and all coupons, receipts and Tickets issued and subject to but not restricted to supplier/carrier terms and conditions. By accepting the coupons and tickets and utilizing our services, you agree that, apart from certain rights you have under the Trade Practices Act, neither Axis Travel Centre nor Travelscene/American Express© shall be liable for any loss, injury or damage to you or traveling companions or your belongings or otherwise in connection with any travel, accommodation, transportation or other services or resulting directly or indirectly from any occurrence beyond the control of the travel agency, its subsidiary or representative. Axis Travel Centre  will advise you of passport, visa, health, currency, custom and safety requirements but it remains your responsibility and those of your fellow companions to ensure that you comply with these regulations before and whilst traveling. Axis Travel Centre acts as an Agent on behalf of Carriers, Suppliers, Tour operators and associated Travel related companies only. You should familiarize yourself with the associated Travel and Tour Operators "Terms" or "Fees" that may apply to yourself, your family or traveling companions that you represent or make payments on their behalf.
General Provisions; The laws in force in South Australia govern these Terms and Conditions. You irrevocably submit to the non-exclusive jurisdiction of the Courts of South Australia and Courts of Appeal from them and/or any relevant tribunals for determining any dispute concerning this agreement.Accuracy of information .
AXIS TRAVEL CENTRE and its third party suppliers have taken reasonable care that the content of this travel SABRE/VTO site, including all travel information and listings is correct but all information is subject to amendment at any time without notice. AXIS TRAVEL CENTRE  publishes such information in good faith.
As a user of this Facility you acknowledge and accept that, AXIS TRAVEL CENTRE  has not checked and cannot check the accuracy of all information provided by travel service providers such as airlines and hotels. The hotel listings may include errors and travel service providers such as airlines, hotels, wholesalers and car suppliers are requested and encouraged to correct and update their information regularly and as needed. AXIS TRAVEL CENTRE  will not be responsible for errors, omissions or misleading information in travel information and listings. You should make your own evaluation of the accuracy or completeness of any information, opinion, advice or other content available through the facility. You are solely responsible for the suitability of any travel services, which you purchase by means of the Facility. In particular, AXIS TRAVEL CENTRE are not liable for any inconvenience caused or expense incurred as a result of any unsuitability or incorrectness of travel services for use in association with other travel services. AXIS TRAVEL CENTRE s role in relation to your travel arrangements is limited to facilitating your booking and arranging travel documentation, payments and refunds as applicable.
Agent's Responsibility;
AXIS TRAVEL CENTRE accepts responsibility for the performance of this role and for the negligence of its employees. However, to the maximum extent permitted by law, AXIS TRAVEL CENTRE  disclaims all liability for any technical errors, corruption of any data, unauthorized access to your personal data, inaccuracies in information supplied by third parties, or failure by AXIS TRAVEL CENTRE to complete bookings where that failure is due to circumstances beyond their control.
AXIS TRAVEL CENTRE accepts no responsibility or liability for any failure or delay on the part of any third party in providing travel services to you where your booking has been properly processed by it; nor is AXIS TRAVEL CENTRE  responsible for any acts or omissions of airlines or other third parties in the course of delivery of such travel services. Where AXIS TRAVEL CENTRE  is liable to you under these terms and conditions its liability will be limited to providing the relevant booking services again or to refunding money paid in relation to services not provided because of AXIS TRAVEL CENTRE 's default. Where refunds are due to you from third party suppliers of travel products or services, AXIS TRAVEL CENTRE  will provide reasonable assistance to you in claiming such funds from those suppliers. Under no circumstances will AXIS TRAVEL CENTRE  be liable for direct, indirect, consequential or incidental damages including but not limited to lost profits or savings or damages for disappointment.
We  distribute and can issue suitable Travel Insurance for you. Please ask us.
Force Majeure
Axis Travel Centre, its staff or contractors will not be liable for any failure or delay in performing an obligation under this Agreement that is due to any of the following causes, to the extent beyond its reasonable control: acts of God, any pandemics, 'epidemics, 'health outbreaks, accident, riots, war, strikes, crimes,Government collapses, 'government action or interference',labor shortages, national emergencies, , 'pandemics,  terrorist act, epidemic,quarantine, outbreaks of infectious disease or any other public health crisis, civil commotion, breakdown of communication facilities, natural catastrophes, governmental acts or omissions, changes in laws or regulations, national strikes, fire, explosion.
Examples when we have enforced this Force Majeur have been the Australian pilots strike, Bali bombings incidents, Iraqi and Middle East wars and September 11th New York incident- all beyond our control but when  amendment , postponement and refund fees were applied.
For the avoidance of doubt, Force Majeure shall not include (a) financial distress nor the inability of either party to make a profit or avoid a financial loss, (b) changes in market prices or conditions, or (c) a party's financial inability to perform its obligations hereunder. In the event that a Force Majeure applies, you will be bound by the suppliers' terms & conditions.
Axis Travel  Centre will apply Force Majeure at the stage that we deem it necessary but note that it may also be influenced and be applied due to new, unforeseen, government restrictions on public gatherings or if, as an example, the World Health Organisation declares a  pandemic. Axis Travel Centre will advise , a trigger point, as soon as practicable if a Force Majeure becomes activated. The trigger point will depend on when obligations have been affected.  At all times we will only "trigger"  a Force Majeure event if we determine , under advice, that real restrictions  have affected us and/or our suppliers from performing its contractual obligations, such as being  impossible to perform, or materialistically being hindered, impeded, impaired or delayed in delivering or providing paid travel services originally contracted  rather than being more difficult or costly.
If Force Majeure is activated, Axis Travel Centre, as an agency,  and all related and relevant suppliers will deducted from gross monies paid by client(s) the agency costs, fees, our professional time and agency services we invested to facilitate your travel booking(s), in  communication costs, loss of revenue and any levies from monies paid and refund-if such a net refund exists- monies to the client.
Quality Travel insurance is again suggested to apply for any possible refunds should this event occur.
This Force Majeure contact clause can be suspended or terminated by the client without penalty if the force majeure event continues for a sustained period , but only after any initial conditions with advised fees and costs are considered , to be met then activation of this termination is made.
Axis Travel Centre will make all reasonable efforts to minimize the effect of the force majeure event on the performance of both our and the clients'  obligations under the contract. Any further travel  payments will be suspended until obligations under the contract can be performed; with reasonable notification periods provided  to affected clients , in the event an obligation is affected by this force majeure event.
Your responsibility; In respect to our Booking Engine (SABRE-Virtually There or other Supplier) and any other E-mail request to us, by using this service, you warrant to us that you are at least eighteen years old and have sufficient funds to meet all charges for travel services you book through this SABRE/SAM site.
You must read the travel-specific terms and conditions at the end of these terms and conditions and convey all information set out in those terms and conditions to any other parties covered by any booking you make. We will assume that your continuation of requests and Travel bookings indicates that all parties to respective terms, conditions, duties and responsibilities have agreed upon total agreement. You must keep secure any means of identification that we provide to you in order to access the Facility. You must not resell the service or any products or services accessed by means of the Facility, or permit any other person without your express permission and under your personal supervision, to use your user identification to access the Facility. You are responsible for all use of the Facility, and all transactions entered into by means of the Facility, using your user identification.
You must not use the Facility for any activities which breach any laws, infringe any party's rights, or breach any standards, content requirements or codes promulgated by any relevant authority. You must not use the Facility in any way that interferes with other users or defames, harasses or menaces anyone.
Schedule of Fees and Terms of Trade©     
 You indemnify AXIS TRAVEL CENTRE  from and against all actions, claims, suits, demands, liabilities, costs or expenses arising out of or in any way connected to use of the Facility by you or any other person using your membership identification or password. You acknowledge that all right, title, interest, trademarks and copyright in the AXIS TRAVEL CENTRE  Software and SABRE/VTO Travel software associated manuals and documentation provided in association with the Facility are owned by AXIS TRAVEL CENTRE  are protected by copyright and trademark laws, international treaty provisions and all other applicable national laws You must not modify, copy, adapt, translate, manipulate, reverse engineer, decompile, disassemble, rent, sub-licence, assign, lease, loan, resell, distribute, network, transmit, display, perform, publish, license or create derivative works from any information or software or associated manuals and documentation accessed by means of the Facility. Where copying or transmission is expressly permitted, you must not change or delete any author attribution, trademark notice or copyright notice from any part of the software, including, but not restricted to, the following: AXIS TRAVEL CENTRE  ©2022 & SABRE/VTO/SABRE Travel Copyright © 2022
You acknowledge that we may receive any/all revenue as we have negotiated from transactions entered into using the Facility.
Travel Related Terms and Conditions
Fares & Prices; Airfares and prices displayed when booking online or on this site may not include taxes or airport charges and are subject to availability. The general booking form constitutes a request only and we do not guarantee fares or prices until the booking has been confirmed by one of our consultants and paid for in full. The fast E-Ticketing facility, utilizing your Card details (Charge or Credit) are usually conditional so you must be aware and accept full responsibility for Agency/Supplier/Carrier financial / Travel related penalties imposed. Please be sure of the details before your allow your finances to be debited.
Bookings made through the booking engine constitute a firm booking, and the correctness of this booking in regards to abiding by the rules of the applicable fare is your responsibility. We do not guarantee the fare quoted until the booking is confirmed by one of our consultants. Airlines and other suppliers may change their prices and conditions without notice.
Availability, fare conditions and class of travel booking code can change at any time. Routing restrictions and other special conditions may apply.
Taxes, airport charges and any additional costs will be advised to you when your booking is confirmed.
Axis Travel Centre business name works under the umbrella of Priority Portfolio Travel Pty Ltd.