Axis Travel Centre: "When professional advice and quality service matter most"
Since 1978 , Axis Travel Centre has invested heavily in strong product knowledge, accreditation's, employing and continually training new human staff to deliver to our clients the best solutions, options with quantifiable and guaranteed , risk free,  travel arrangements .
NEWSGETTER- Axis Travel NEWSLETTER-    Relevant trravel news, usually not available to consumers, Axis Travel deals and advice.
Axis Travel CoronaVirus fun and serious COVID19 VIDEO 
MEDIA REVIEWS Of CoronaVirus Covid19 Video to June 2020
Axis Travel CoronaVirus COVID19 staff TOOLKIT -expanded in PDF format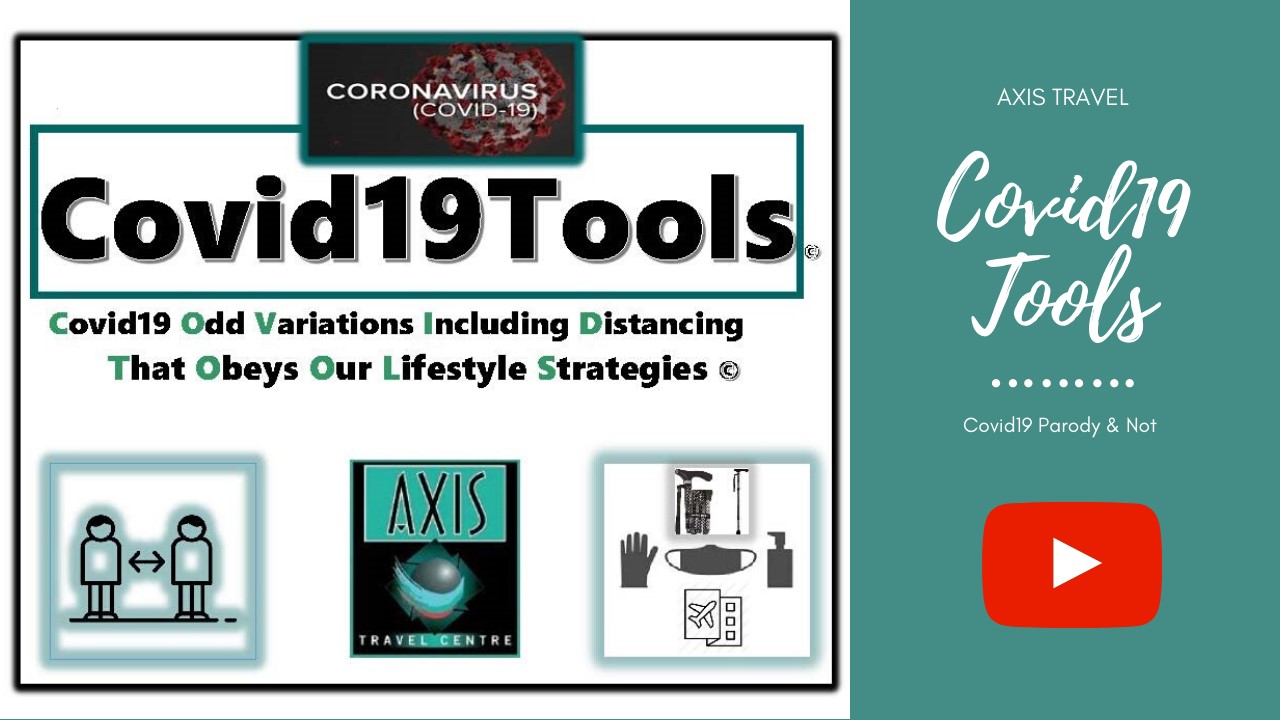 recent article : HERE TODAY.HERE TOMORROW. HEAR WHAT WE HAVE TO SAY .
DURING THE CORONAVIRUS PERIOD. OUR OFFICE OPENING HOURS> CLICK HERE.
Access to AXIS !
Axis Travel Centre physical office remains open during this CoronaVirus problem.
Our office physical visits remain strictly by Appointments only.
Our office respects and will abide by current  "social-distancing" and Government hygiene protocols . We will also stagger appointments to ensure  distances between each person is 2 metres , hence less people will be in our office at any one time.
PLEASE phone or email us BEFORE you wish to visit our office, to allocate a time.
AXIS TRAVEL montage of past Promotions and Marketing . Copyrights and Trademarks apply.
AIRLINE FAILURE INSURANCE PROTECTIONS-we got you covered ! read here.
SAFI- Scheduled Airline Failure Insurance LIST-EXCLUSIVE free protection list of Airlines that we cover clients .
 CLIENT MEMO: Axis Travel Centre was established in 1978, Axis Travel Centre has assisted our valued clients through wars, evacuations, viruses, political turmoil's, terrorist attacks, airline and supplier collapses, strikes and travel industry upheavals. We remain strong and focused, dedicating our expertise and experience to assist you through this drama now and also to advise and secure your requested travel into the future, with the unique securities and accreditations that we offer, 24 x 7.
PLEASE NOTE Change of physical office address. Same PH and EM numbers.
As the travel industry gets more complex and inclusive of web based anonymous companies, unsubstantiated blogsites and here today-gone tomorrow Agencies, Airlines, Tour companies and Cruise lines- we have added our FREE and exclusive "SECURITY UMBRELLA"© protection package*  to protect our clients as much as possible against the financial default of an Airline. As of December 2020, we were the only Travel Agency in South Australia that gives our clients SAFI (Scheduled Airline Failure Insurance] refund protections in case an Airline that we book and issue tickets for you ,have financial difficulties. This protection is NOT available if you book direct with an Airline, Online or with other SA Agents. This is part of the "SECURITY UMBRELLA"© protection package*  that we offer our clients. Buyer Beware! As with anything good in the journey of life, *conditions apply.
This is a major investment again by our management to ensure that we not only deliver travel expertise and experience to our clients but also protect their monies to the highest levels available.
We specialize in quality travel , focussing on Titanium, Centurion, Platinum, Gold and VIP clients wanting delivery of expert advice and professionalism that is becoming rare in the profession of travel management services.
We excel in methodical planning of Itineraries, mature advice from Travel Industry accredited professionals with the ability to construct logical travel itineraries, whilst giving clients relevant travel options.
Our staff and contractors have the ultimate respect for time and Intellectual Property and dedicate these elements to our clients as we know that both time and IP are both priceless commodities that cannot be credited or traded.  Axis Travel Centre, is our business name, trading  under Priority Portfolio Travel Pty Ltd : ABN 45 007 869 123.  We have a passion to advise on travel and deliver travel options to you. That is what we do.