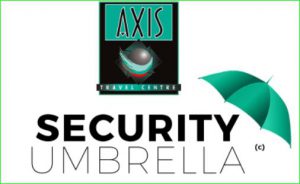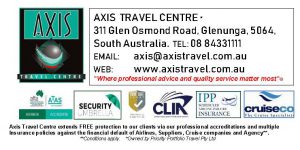 AXIS TRAVEL CENTRE   "SECURITY UMBRELLA©"  *  Protection Package.
Clients who book travel through Axis Travel Centre are given protections under our unique "SECURITY UMBRELLA©* Protection Package .
This unique and exclusive package is inclusive of the  BOOK SAFE© and the IPP- SAFI  [Scheduled Airline Failure Insurance] Policies in addition to our accreditation's with AFTA, ATAS, CLIA and CRUISECO and our professional credentials which began in 1978.
# We guarantee you that no Airline, Cruise Company or Travel supplier has such a package in place and we are unaware of any  Travel Agency in Australia offering protections to the same levels.
In the unlikely event of losses due to insolvency of the part of the supplier, Axis Travel Centre will coordinate with Insurers we have in place to reimburse you fully or partially , monetary losses incurred by you as covered under their and our policies terms & conditions. Under the current CoronaVirus climate NO INSURER we are aware of will protect you as a Pandemic has been announced and in many cases Travel insurance as of April 2020 has been suspended from sale. This means also that most if not all clauses are null and void to claim against- so DO NOT TRAVEL if you think Insurance is required.
Any bookings, not made via Axis Travel Centre but via another Agency, Airline, Hotelier, Operator, Cruise ,website or any other source are not protected by our SECURITY UMBRELLA©*package. We have a SECURITY UMBRELLA WAIVER FORM that we ask clients to complete to release us from liabilities and we also ask that a check is made with any Insurance Policy to see if they also will or will protect.
CLICK HERE to see media reports that endorse that you need to be protected!
Will I be covered if I have paid for my trip and the supplier or Airline goes broke BEFORE or DURING my travel?  YES.   We have merged coverages to protect your financial investments with us when you pay us via cash, cheque, bank transfers, credit or charge card for Airtickets we book and issue. Travel suppliers and Cruises have their own internal policies but we suggest to consider paying via credit or charge cards as payments via cash, cheque or bank transfers may not be protected. Nothing is absolute or guaranteed, with protections changing regularly, but we will advise you as best we know but at least Airlines booked and issued via our  SAFI AIRLINES COVERED list will afford you protections.
What guarantees or monitoring levels are there with Axis Travel Centre ?
Nobody can give any traveler 100% protection of all monies paid, as we do not control the finances of who we deal with, so we only use "preferred suppliers" and Airlines on our special SAFI AIRLINES COVERED list that encompasses most,  if not all,  Airlines our clients ask for anyway. We suggest the best practice is pay for your travel using a credit, charge or debit card via the in-house or online Axis Travel Centre facilities and also take out a good quality Travel insurance policy that  may offer you an extra layer of "Supplier collapse" protection as well as comprehensive policy inclusions for your own personal insurance protections, as per their policy conditions. We can advise and issue Travel Insurance for you. You must read the fine print of cards issued and insurance PDS (Product Disclosure Statements).
Axis Travel Centre works within Australian and International industry levels , and we use our privy industry contacts and information services via IATA, AFTA, ATAS, ABTA, ASTA, TAANZ, ASATA and multiple Government departments to "sense" who may be having financial difficulties and we will advise you that we either do  not recommend or will not book an Airline or supplier . We try and not get clouded by marketing hype and gimmicks. If you decide that you wish to continue and risk your monies and travel arrangements, we will request that you agree and/or sign off a disclaimer to proceed further. Our professional advice and placement of your monies with your travel plans  are important elements that we prefer not to compromise.l
If insolvency occurs whilst you are flying, cruising or on Tour we will place you onto the next available travel component and assist you, doing all possible to minimize travel plan disruptions.
We cannot guarantee everything-but will use our 42 Year expertise, experience and contacts to do all we can!
How is a claim made if I need to do so ?  We will make a claim to have your funds returned via our "SECURITY UMBRELLA"©* policies communicating and assisting you in conjunction with your personal  Travel Insurance policy if they afford coverage's.
PLEASE NOTE :You still need a separate comprehensive policy for such areas of baggage claims, theft, medical, injury, illness, car rental etc coverage's . We can advise and issue. Ask us.
Only members of ITG, Independent Travel Group are privy to "BOOK SAFE" protections
"SECURITY UMBRELLA"©* is a combined package , unique and exclusive to Axis Travel Centre incorporating a suite of Insurance protections* in addition to the securities, governing standards and standards demanded by accreditation s with AFTA, ATAS, CLIA and CRUISECO in addition to the new 2018 IATA PCI compliance regulations that Axis Travel Centre received a 100% compliance certification with.
* Conditions apply, as referenced by Insurers, with standard credit card ,Airline, Supplier and Agency fees applicable , with the highest protection level achieved via credit card payments .
"BOOKSAFE" © is only available to participating members of the ETG [Express travel Group]
*For more detailed information, refer to Axis Travel Centre website or our office. *Coverage is subject to the terms and conditions and policy limits of policies. The insured party is the travel agency, as a participating member of the Independent Travel Group .The insurer will only respond to claims made by the travel agent or other participating members of the Independent Travel Group, AFTA or ACS . While the information is believed to be correct, no responsibility is accepted for any statements of opinion or any error or omission. The information set out is of a general nature and cannot be a substitute for professional financial or legal advice tailored to specific situations.    # As known and researched on Feb 2020.